Making business Better With Pay Per Click Marketing
PPC, or Pay Per Click Marketing is a model of internet marketing where the advertisers pay some fees each time their ad is clicked. Essentially a way of buying visits to the site, or rather attempting to earn the visits organically, PPC is what most businesses need to get the desired reputation. We, at Team In India are experts of this form of marketing and have deployed our best men at work.
Our Team
Team In India has a professional team of PPC experts, trained, guided and experienced to fetch best results for your business. We know exactly what it takes to make a business successful and our services are directly proportionate to our understanding and knowledge. We're competent of delivering tailor made solutions to perfectly suit your business needs and requirements. We've got the right skills in hand and we make use of them in the best way possible.
Opting For PPC? Know Why It Is Important!

PPC matters to business and it drives revenue

You can reach your target consumer at the right time with the right ad

No dependencies on SEO or Google Algorithmic changes

Unlike organic search, PPC can show results very quickly

You only pay when an interested person clicks

No dependencies on SEO or Google Algorithmic changes
Benefits of advertising with PPC
Your ad is displayed to people who are already searching for the kinds of products and services you offer. So those people are more likely to take action.
You can choose where your ad appears -- on which specific websites and in which geographical areas (states, towns, or even neighborhoods).
The Google Display Network , (GDN) alone reaches 80% of Internet users in the US.
Option for Onsite development
With cost-per-click (CPC) bidding, you're charged only when someone clicks your ad, not when your ad appears. There are a variety of bidding options you can choose from. You decide how much or little you want to spend monthly, and you'll never be charged more than that amount.
Run Multiple Campaigns for Your Marketing Needs
Use AdWords tools to edit and improve your ad, and increase the number of potential customers who contact your business.
Reach Your Local Customer
Highly Targeted Searches
Follow Your Customer with Retargeting
View a report of how your ad is doing -- see how many new customers connect to your business from your ad, where they're coming from, and more.
Reach your customers when they want your services.
Traffic to your Website

How we can help? Our PPC Services Includes
CRO-Conversion rate Optimization

Google Paid Search

Bing Paid Search

Google Remarketing

Google Display Advertising

Google Shopping

Google Dynamic Product Remarketing

Google Video Advertising

Google Search Remarketing

Amazon/Ebay 3rd Party Seller Central

Gmail Ads

Analytics and Attribution Support
Managing Your PPC Campaigns – PPC Our Way!
Once we've created your new campaigns, we'll need to manage them regularly to make sure they continue to be effective. We will continuously analyze the performance of your account and making the following adjustments to optimize your campaigns.
Add PPC Keywords

Expand the reach of your PPC campaigns by adding keywords that are relevant to your business. This is primarily important to increase the search credibility of your business. Make sure that you have clearly defined goals (branding, conversions, leads etc) for your PPC campaigns.

Add Negative Keywords

Add non-converting terms as negative keywords to improve campaign relevancy and reduce wasted spend. Try adding negative keywords on daily basis, like when you log into your MCC - this will help you a lot in controlling ad spend, especially if you have a low budget.

Split Ad Groups

Improve click-through rate (CTR) and Quality Score by splitting up your ad groups into smaller, more relevant ad groups, which help you create more targeted ad text and landing pages.

Review Costly PPC Keywords

Review expensive, under-performing keywords and shut them off if necessary. Remember that maximum CPA is the maximum amount you are willing to pay for each conversion without getting into loss.

Refine Landing Pages

Modify the content and calls-to-action (CTAs) of your landing pages to align with individual search queries in order to boost conversion rates. Don't send all your traffic to the same page.

Optimize your campaign settings

Campaign settings can consume a lot of your budget if you have not set them up to align with your business goals. Make sure that your campaign is targeting only the locations, languages, network & devices that are relevant for your target market.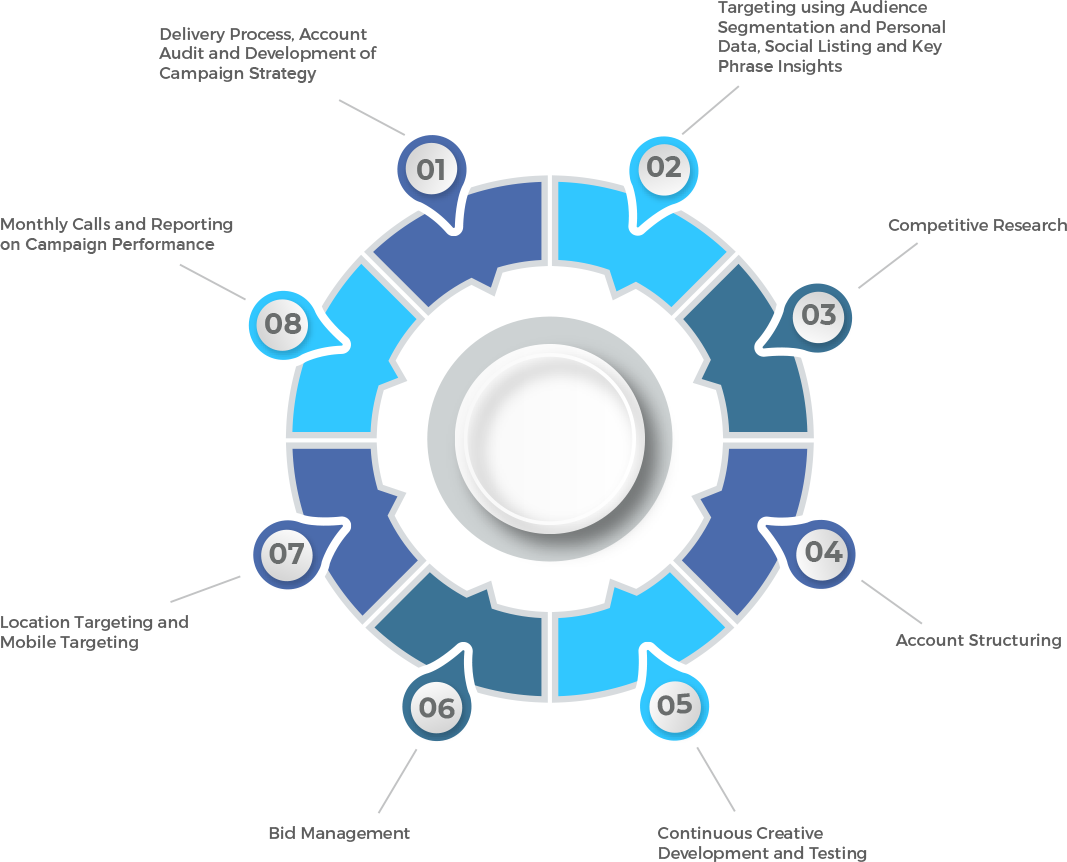 Industries We're Proud To Have Served
Choose Us Because
We're efficiently effective!

18+ years experience in the industry

Streamlined Communication System

Proven Methodologies

Competitive Pricing

Comprehensive Reporting

Best-in-industry quotations

Hire from a pool of highly Proficient SEO Experts

Free Website Analysis

White Hat SEO & Quality Backlinks

Improved Rankings & Traffic

Branding & Reputation Management

Incresed ROI & Sales Volume
Clients Love Us!
Customer Service! Great communications. Experienced staff. I will be even happier if my invoices were halved :) But hey I can't complain too much when the engagement is to such a high standard and I get what I pay for!
Kiran Patel infoindiadirect.com
The technical understanding is good and the price is right. The project moved quickly once the resource was allocated and extra features were added at short notice. The developer was easy to work with and we have a good result.
Tony Batchelar freespirityoga.co.uk
Excellent communication and interaction with our developer. Always received a prompt response to our inquiries and a quick resolution to various issues. Our account was managed in a professional and attentive manner.
Michael Gusick
Inquire Now